Visit the AIN website to see how you can help or download the latest AIN Newsletter!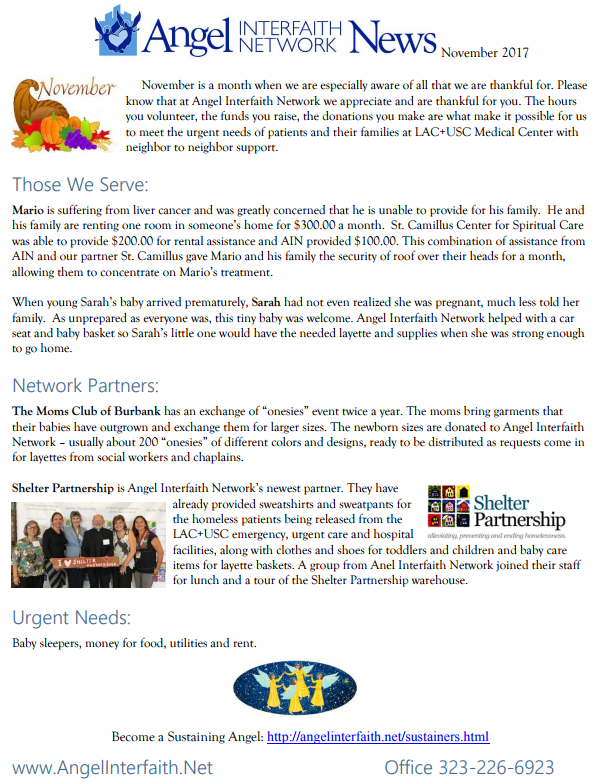 Angel Interfaith Network
Local religious groups have sponsored chaplains for the LAC+USC Medical Center since it was founded, calling on their communities for aid.
In 1988, Chaplain Santos Ramos asked for "angel churches" to help respond to urgent needs of patients whose hospitalization threatened the well-being of their families. Ramos enlisted the volunteer help of Reverend Ann Mills, and together they recruited churches to contribute baby supplies and other forms of assistance. In 1990, "Project Angel" was approved for PC(USA) Bicentennial Funding (to begin in 1994) to further develop the Presbyterian Chaplaincy into a comprehensive service available to patients referred by all 15 chaplains serving the Medical Center. "Project Angel" was formed, working with patients referred by any of the then 15 Medical Center chaplains and clinical social workers.
As more people responded to their neighbors' need, Angel Interfaith Network (AIN) was incorporated as a nonprofit organization in 2001. Angel Interfaith Network's mission focuses on personalized, neighbor-to-neighbor assistance to meet the urgent needs of patients served by L.A. County+USC Medical Center. Our commitment is to give relief to the poor in this community and bring hope to them when no other resource is available. In 2011, it became a project of St. Camillus Center for Spiritual Care, which has provided chaplains to the Medical Center since 1953, and currently hosts an, accredited clinical pastoral education program for urban chaplains of all spiritual traditions. Angel Interfaith Network provides assistance with:
-Emergency food certificates, eviction prevention, and utilities maintenance;
-New baby needs including clothing, supplies, strollers, cribs, and both infant and toddler car seats;
-Hygiene kits, sweats and socks for homeless patients.
Chaplain's Corner
My name is Rev. Elizabeth Gibbs Zehnder and I serve as Staff Presbyterian Chaplain at LAC+USC Medical Center. I began this role in February of 2015, but Presbyterians  have been united in their dedication to accompany the poor and sick in Los Angeles for over 75 years. The Presbyterian Staff Chaplain position has been a key part of this ministry.
The tradition of hospital chaplaincy is not a solo effort. Presbyterians have cultivated positive working relationships with chaplains of other faith traditions so as to serve the whole of the human family in their moment of need. We collaborate with the Catholic Archdiocese of Los Angeles – St. Camillus, Episcopal Diocese of Los Angeles, Islamic Center of Southern California, Evangelical Lutheran Church of America, the Southern California Board of Rabbis and the Buddhist Sangha.
The LAC+USC Medical Center stands at the crossroads of Pacific, San Gabriel and Los Ranchos Presbyteries and the Synod of Southern California, which together financially support the chaplain position through mission giving.  LAC+USC Medical Center has 630 beds. As a hospital at the city center it features a Level  1 trauma center, a jail ward, a psych unit, newborn, cardio, surgical intensive care units. Over 150,000 patients visit the inpatient tower and 1,000,000 people come to the outpatient clinic each year.
In the hospital, I serve as part of the Spiritual Care Department. I have lead responsibility for several floors where I do rounds, visiting room to room providing spiritual care to the patients and their families and the staff. I also respond to urgent requests for chaplain presence from all parts of the hospital. Each day brings something new. The hospital is an incredible place to witness God's presence with the whole of the human family. As chaplain I am privileged to walk with people as they find their way through trauma and pain to healing.