The Mission Interpretation and Promotion Committee


of the Pacific Presbytery &
The National Black Presbyterian Caucus of Southern California
The History of our Partnership Commitment to New Orleans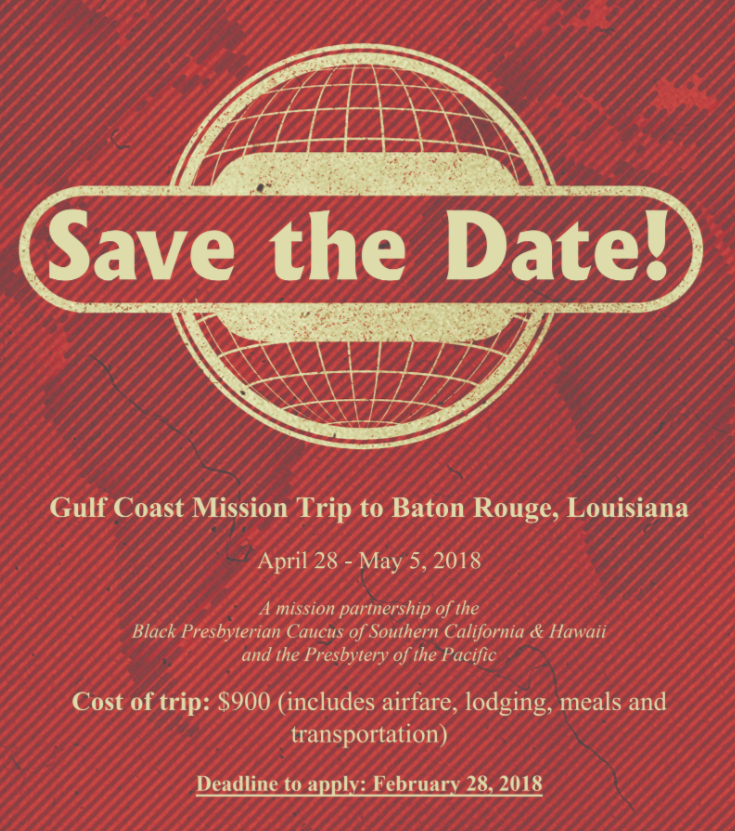 The National Black Presbyterian Caucus of Southern California (NBPCSC) organized an initial Mission trip to the Southern Louisiana coast in 2007 to respond to the devastation caused by Hurricane Katrina and a faulty levy system in New Orleans in 2005. The group served in Presbyterian Disaster Assistance pods in Houma, Louisiana and were surprised to be working that year with a volunteer group from St. Andrew's Presbyterian Church in Pacifica, California. The two groups quickly bonded and planned for a return trip in 2009. In 2009 NBPC-SC also partnered with POP to co-sponsor the NOLA mission trip experience. Since 2009 the NOLA mission experience has been a partnership between NBPC-SC and POP. The trips have been staffed by our Presbytery Mission Catalyst, Rev. Heidi Worthen Gamble and NBPC-SC continues to provide leadership on the planning team. APPLY NOW for the 2018 Mission Trip to the Gulf Coast!Our New Orleans Partnership continues to receive scholarship funding from the National Black Presbyterian Caucus, and together we are nurturing young adult leadership for a new generation of mission leaders within our churches, cities and nation. The 2017 trip to New Orleans was the seventh mission recovery service project and marks the commitment this partnership annually lives out to assist the people of the Gulf Coast area. 

'Faith at Work' recognizes dedication to long path of recovery in New Orleans: A decade of faith-based action remembered at anniversary event – Article by the Presbyterian News Service
SEPTEMBER 16, 2015 — NEW ORLEANS
A quiet, unassuming presence inhabits the citizens of New Orleans. Many came as first responders and remained. Still others stayed and reached out to their neighbors. And thousands were members of work teams who rolled-up their sleeves, helped muck-out after Katrina, and continue today to bring their faith and skills to a city on the rebound.
On Thursday Aug. 27, 2015, 10 years after Hurricane Katrina made landfall in New Orleans, more than 300 members of faith-based groups
gathered for a thanksgiving dinner at St. Mary of the Angels Roman Catholic Church and Community Center in the Lower Ninth Ward. Jambalaya, bread pudding and New Orleans choir groups carried what began as a somber remembrance to a celebratory note, acknowledging the ways faith-based communities came together within the city and throughout the nation to respond to one of the worst natural disasters in the country's history. – READ MORE…
In May of 2015, the Presbytery of the Pacific (POP) sent a work team of adults back to New Orleans (NOLA) to help residents continue to build their lives and homes 10 years after devastating Hurricane Katrina leveled many towns of the Gulf Coast. Partnered with Project Homecoming, the POP NOLA "Dream Team" (the name the mission workers came up with for themselves) was privileged to work this year with the same homeowner Mr. Emmanuel (pictured below) as they did in 2014. Mr. Emmanuel worked to rebuild homes for other New Orleanean families who lost their home for 9 years. Project Homecoming with the Pacific Presbytery is now helping him to finally rebuild his own home after the Katrina damage.